Having been involved in the news business for many years, I've dealt with so many heart-breaking situations that, if I'm honest, I'm not always deeply impacted by the latest bad headlines. But the reports out of Sutherland Springs, Texas, on Nov. 5 touched me profoundly.
Perhaps like me you found yourself reeling from what transpired at the town's First Baptist Church. A place for celebrating love and goodness became the focus of such great evil as a deranged man opened fire on a group of innocent men, women, and children.
I thought of all the Sundays I have gathered with dear friends to celebrate my faith—just like they did in Sutherland Springs that day—never imagining the world could change in a moment.
A witness to the world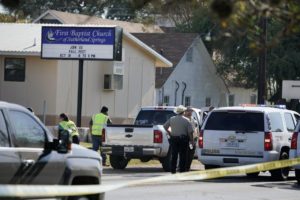 As my heart went out to all those impacted by the church massacre, I found myself praying that God's grace would strengthen the church leaders and members as they responded – that they might be His messengers, communicating hope and healing.
It was so moving to see that happened in the days that followed as church members, in the midst of their grief and loss, spoke of their faith and trust in Christ. What a witness to the world.
It was a wonderful reminder of how, when darkness comes, we need the light of the gospel to shine brightly. It made me think of the admonition in 1 Peter 3:15 that we should always be prepared to "make a defense to anyone who asks you for a reason for the hope that is in you…" (ESV).
It reminded me, too, of some of the times I have been able to help others respond in a similar way, meeting their communication responsibilities—and opportunities–in the wake of a crisis.
The Texas tragedy may have caused you to wonder about your preparedness to step forward in a time of need. Are you ready to respond should some kind of difficulty affect your church, your ministry, or your organization—whether that's workplace violence, natural disaster, political opposition, or some other challenge?
A light in the darkness
This is about being wise, not fearful. As one security consultant said, the biggest threat to any organization is not any one kind of situation, but denial—the belief that bad things could never happen to you.
As you consider this, we would like to help. We have decades of experience assisting others to handle crisis communications situations well, shining their light in the midst of darkness. We'd be happy to share some of what we have learned with you—no obligation, no charge.
If you have questions or concerns about your organization's readiness for future crises, you can just click here to set up a time that's convenient for a call, or call me directly at (704) 759-6192.
We also have a free Crisis Communications Checklist that can help you evaluate how well you are prepared, and what you might need to do.
As awful as the events in Texas were, as a Christian, I know it remains true that darkness cannot extinguish God's light, nor can hatred overcome His love! He can turn this latest ugliness–and any–into something beautiful.
In Him,
Palmer Holt
President, InChrist Communications