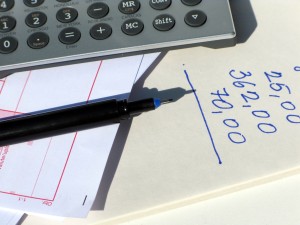 With fall's arrival, many organizations have entered their season of income forecasting and budgeting for 2016.  Few people like budget planning, but it can make or break your organization's communication efforts.
Communicating your organization's mission requires a strategic plan empowered by appropriate funding allocations. Achieving success begins with a compelling, mission-centered communication plan that justifies funding requests.
Answering these six questions can help you plan:
1. Have you aligned your communications strategy and budget allocation requests with your organization's mission and overarching strategy?
Budget allotments should always support the organization's mission and upcoming strategic goals. Your planning can demonstrate to leadership that the communication team's objectives align with the organization and not personal agendas. Communications allocations tied directly to the mission and goals stand the best chance of being approved.
2. Have you reviewed and evaluated the current year's activity?
A new budget year is a good time to review your current initiatives — public relations, Web, social media, communication with donors and perhaps most importantly, your crisis communications strategy. How successful has each been? What can you do differently, better? This is not an exercise for you to extol successes and focus on awards won. Be honest in your evaluations, because you can learn from failures.
3. When was the last time you updated or refreshed your brand and image?
Entrepreneur magazine defines brand as "your promise to your customer. It tells them what they can expect from your products and services, and it differentiates your offering from your competitors'. Your brand is derived from who you are, why you want to be and who people perceive you to be."
A distinct, differentiating brand can raise your organization above the communications noise as others compete for attention. Branding is not just about image. It includes defining who you are and strategically aligning with that definition. Branding is the most important exercise an organization can do, because by default it keeps organizations on mission.
For budgeting purposes, anticipate a branding initiative that includes a communications audit, with at least qualitative, if not quantitative, research and analysis. Subsequent steps include defining your brand promise, messaging, creative articulation of the brand, defining your stakeholder universe, and evaluating various communications channels and deliverables within those channels.
4. Do you have a crisis communications plan in place?
A barrage of media attention often happens with an unwelcome event — natural disasters, financial scrutiny, morality issues, etc. If your organization suddenly became the focus of media inquiry and even investigation, would it appear to be calm, organized and on-message?  Or would the public see discombobulation?
A crisis communications plan is a thorough strategic response that your organization has practiced, reviewed annually, and submitted to a third-party expert for vetting.
ICC offers a free Crisis Communications Checklist to facilitate your initial planning and consultation.
5. What are your personnel needs?
A communications audit should include a workload study. Based on the findings, the results may justify the reduction or addition of staff.
Hiring new staff is often hard for nonprofits due to budget constraints. If you face that obstacle, look to outsourcing. When your communication needs include professional-level writers, photographers, videographers and graphic and Web designers, you have a host of talented people who can provide those services on a contract basis.
6. How could a third-party communications partner empower your planning and strategy implementation?
Sometimes you just need a fresh set of eyes and ears to bring a new perspective. A third-party communications partner can bring outside expertise and objectivity. The key is for that outside agency to not only have broad experience, but also be a true partner that embraces your organization's mission.

InChrist Communications is a national, full-service communications agency primarily serving faith-based organizations, churches, businesses and individuals seeking to reach the Christian market. Let us help evaluate your communication and budgeting needs. Call 704-663-3303 or email [email protected] for additional information.