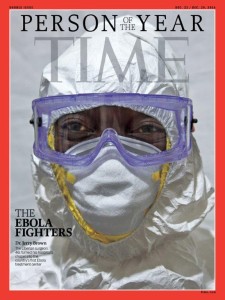 Nearly one year after the Ebola outbreak infected several Americans, InChrist Communications (ICC) continues to service media outlets around the world. Interest in the anniversary is building, and infections are rising again in West Africa.
During the height of the 2014 crisis, ICC client and mission agency SIM received 30,000 media mentions and placements, with an equivalent ad value of $300 million. Time magazine featured SIM doctor Jerry Brown on the cover of its "2014 Persons of the Year — Ebola Fighters" issue.
In May 2015, after 45 days of no new cases, Liberian health officials declared the country Ebola free. At least three new confirmed cases happened in late June and early July resulting in at least one death.
Patients are receiving treatment at the Ebola Treatment Unit on the grounds of SIM's ELWA Hospital compound, in Monrovia, Liberia, which the Ministry of Health manages under the direction of Brown, a Liberian, who also serves as ELWA's medical director.
Two Americans serving with SIM at ELWA contracted Ebola last year. Nancy Writebol of Charlotte, N.C., recovered at Emory University in Atlanta and has returned with her husband, David, to Monrovia. David is directing SIM's work in Liberia, and Nancy is personnel coordinator. Dr. Rick Sacra of Holden, Mass., recovered at the University of Nebraska Medical Center in Omaha. He has returned to Liberia for short-term trips.
SIM's ongoing Ebola response includes several partnership initiatives.
The construction of a new SIM ELWA Hospital has resumed in partnership with Samaritan's Purse. The expansion will provide greater capacity, medical training facilities, plus a wider range of medical services. SIM's ELWA Hospital celebrates its 50th anniversary in 2015.
A focus for SIM in Liberia is now working with Ebola survivors and those affected by Ebola through specialized medical treatment for survivors and trauma-healing workshops for families and others touched by the crisis.
Emory University Hospital, in partnership with SIM, has sent a team of eye doctors to provide care for Ebola survivors. Lingering eye problems have been an issue for many who recovered from the disease.
SIM is partnering with Texas Health Resources, one of the largest faith-based, nonprofit health systems in the U.S., and the family of Thomas Eric Duncan to educate future Liberian doctors, nurses and physicians through an endowed scholarship fund. Duncan died at Texas Health Presbyterian Hospital two weeks after arriving from Liberia. The scholarship fund is for Liberians in medical training for future service to their fellow Liberians.
InChrist Communications can help your organization capitalize on breaking or coming news. You can learn more by visiting www.inchristcommunications.com or our Facebook page.