Better Halves™ Workshop Offers Solutions to Greatest Source of Marital Conflict — Money
MINNEAPOLIS, Minn. — A new partnership is launching an innovative, holistic approach to family financial education to help couples better understand the emotional and spiritual dimensions of their finances.
brightpeak financial, a faith-based not-for-profit that empowers Christians — particularly young Christians — to live with financial strength and generosity, has announced a partnership with PREPARE/ENRICH, the nation's leading relationship inventory program, and the launch of brightpeak's Better Halves™ workshop and small group.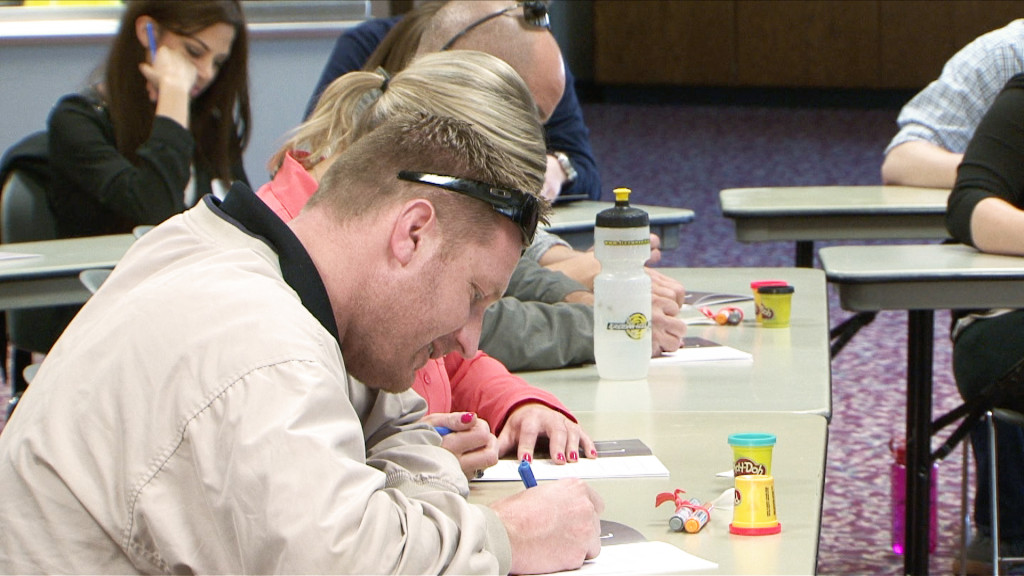 While much of the material on financial literacy focuses on the practical aspect — debt reduction, budgeting, saving and behavior change — the Better Halves™ approach, which typically takes place in a church setting, believes the emotional and spiritual components of our relationship with money are just as important, if not more so, to financial health. The program brings couples together in understanding that past experiences with money can drive emotional responses today.
brightpeak's Better Halves™ workshop attendees complete the Couple Checkup™ — a relationship assessment tool powered by PREPARE/ENRICH — before participating in Better Halves™.
brightpeak financial's Tim Schuster co-created the Better Halves™ program with the "crazy idea" that money is emotional, and it plays a significant role in shaping our behavior.
"We believe money is connected to almost every area of life, and because of that there is an opportunity to use money as a way of personal development, spiritual formation and in this case, marriage enrichment," said Schuster. "Our partnership with PREPARE/ENRICH reflects that understanding."
One initial Better Halves™ workshop participant praised the program: "I found this helpful as a catalyst for moving forward — understanding friction points in relationships, communicating clearly, targeting problems and coming to a solution."
The Better Halves™ workshop happens in a fun, non-threatening and interactive manner where churches can empower key leaders to facilitate. The small group program — four and six sessions — takes couples on an even deeper journey toward financial health and generosity. Better Halves™ materials are available for purchase through both the PREPARE/ENRICH and Couple Checkup™ websites.
A facilitator leads the workshop as small groups focus on the practical, emotional and spiritual components of couples' relationships and money. The program helps couples experience how small spending and saving actions can build confidence and sustain new habits. This helps strengthen their relationship and their approach to finances.
According to Money Habitudes (www.moneyhabitudes.com), 53 percent of younger couples report that they do not have the same philosophies regarding saving and spending as their partners.
"How couples handle money says a lot about how they see themselves," said Joan Atwood, Ph.D., professor of counseling and mental health professions at Hofstra University, in a New York Times article. "Money is the metaphor."
Those interested in additional information on the Better Halves™ program, including how to facilitate a workshop or small group, can visit www.brightpeakfinancial.com/betterhalves or visit the Better Halves™ booth at the Catalyst conference, "Awaken the Wonder," Oct. 7-9 in Atlanta.
###
brightpeak financial (www.brightpeakfinancial.com) is on a mission to empower young Christians to live stronger financially so they can experience confidence and practice generosity. It is a new division of Thrivent Financial (www.thrivent.com), a faith-based not-for-profit founded more than a century ago. As a financial services company, brightpeak delivers financial products and services to young Christians in ways that equip and compel them to be financially smart, healthy and make a difference in the world.
PREPARE/ENRICH (www.prepare-enrich.com) is an online, research-based relationship assessment program for dating, engaged and married couples. Developed in 1980 at the University of Minnesota by David Olson, Ph.D., the program provides counselors, clergy, MFT's and other marriage educators with a proven tool to help couples build strong marriages and healthy relationships.
PHOTO CUTLINE:
brightpeak financial and PREPARE/ENRICH are launching Better Halves™ (www.brightpeakfinancial.com/betterhalves), an innovative, holistic approach to family financial education to help couples better understand the emotional and spiritual dimensions of their finances.
To schedule an interview with a brightpeak representative, contact Ty Mays at 770-256-8710 or [email protected].
See on Facebook:
See on Twitter:
New Partnership Helps Couples Understand Emotional and Spiritual Dimension of Finances http://t.co/TESPEVILz4 pic.twitter.com/rXPcpbuOjZ

— ICC Communications (@InChristComm) September 28, 2015